Jerusalem, a unique and must-visit destination, beckons tourists from around the globe. This ancient city, steeped in rich history and religious significance, offers a unique experience for those seeking to explore and embark on a tour Jerusalem. Planning to tour Jerusalem on your own, provides the freedom to create a personalized itinerary and discover hidden gems at your own pace. In this helpful guide, we will provide you with the top 10 tips and tricks to educate on how to tour Jerusalem on your own! Whether you're an experienced traveler or new to touring the world, this article will serve as your ultimate resource for an unforgettable adventure in the remarkable city of Jerusalem.
1. Plan Your Itinerary
When looking on how to tour Jerusalem, it is essential to plan your itinerary thoughtfully. Start by prioritizing the religious, cultural, and historical sites that capture your interest. From the iconic Western Wall to the magnificent Dome of the Rock, Jerusalem is brimming with must-see attractions both within the Old City and beyond. To make the most of your time, consider creating a flexible itinerary that allows for spontaneous discoveries. Additionally, consider adding lesser-known gems like the bustling Mahane Yehuda Market or the serene Mount of Olives. A great resource to learn about the sites and attractions in Jerusalem is this Israel blog.
2. Tour Jerusalem Transportation Options
Exploring Jerusalem on your own is made convenient with a range of transportation modes available. Whether you prefer the efficiency of trains, the accessibility of buses, the convenience of taxis, or the flexibility of walking, the city offers diverse options making it super easy to tour Jerusalem. The extensive public transportation network covers key attractions, making it easy to navigate the city. Trains connect major areas, while buses provide comprehensive coverage to both popular and off-the-beaten-path destinations. Taxis are readily available and offer a comfortable way to reach specific sites. For those who enjoy immersing themselves in the city's atmosphere, exploring on foot is a great way to soak in the vibrant streets and discover hidden gems.
3. Accommodation Choices:
Choosing the right accommodation when planning your tour Jerusalem experience, can greatly influence your overall trip. The location of your stay sets the tone of how your going to tour Jerusalem. Options range from the historic charm of the Old City to the vibrant energy of the bustling city center or the tranquility of quieter neighborhoods. The Old City offers proximity to iconic landmarks and a unique atmosphere, while the city center provides easy access to shops, restaurants, and nightlife. Quieter neighborhoods offer a peaceful retreat after a day of sightseeing. When selecting accommodation, consider your preferences for proximity to attractions, amenities, and ambiance and how it will impact your experience when trying to tour Jerusalem.
4. Taste Israeli Cuisine when Going to Tour Jerusalem:
When planning to tour Jerusalem, don't forget to take advantage of the opportunity to indulge in the flavors of authentic Israeli cuisine. Explore the local markets, such as the vibrant Mahane Yehuda Market, to discover a vast array of fresh produce, aromatic spices, and delightful treats. Don't miss the chance to sample popular dishes like falafel, hummus, shawarma, and freshly baked pastries when exploring the city. Alongside the markets, Jerusalem boasts a diverse culinary scene with renowned restaurants and street food vendors. Take advantage of meal times when exploring the city to have a deep dive into the culinary delights Jerusalem holds.
5. Respect the Culture and Religion:
An important thing to remember before starting to tour Jerusalem is to embrace and respect the local culture and religious traditions. While visiting religious sites, such as the Western Wall or the Church of the Holy Sepulcher, remember to dress appropriately and adhere to any specific guidelines or customs. Even beyond the religious sites, it is essential to be mindful of the local culture and values. Avoid wearing clothing with offensive language or symbols and be respectful of the political opinions of the locals. Engage in conversations with an open mind and show appreciation for the diversity that Jerusalem embodies. By honoring the culture and religion of the city, you can foster a deeper connection with its inhabitants and truly immerse yourself in the unique experiences Jerusalem has to offer.
6. Explore Jerusalem's Vibrant Nightlife:
Jerusalem's nightlife offers a lively and culturally significant experience that should not be missed when planning to tour Jerusalem. As the sun sets, the city comes alive with a myriad of entertainment options. Take advantage of the opportunity to enjoy Israeli wine, beer, and cocktails while experiencing the fun atmosphere. From trendy bars and rooftop lounges to cozy pubs and live music venues, there is something for every taste. Experience the vibrant sounds of authentic Israeli music, from traditional folk tunes to modern beats, as you mingle with locals and fellow tourits. Exploring Jerusalem's nightlife scene not only allows you to unwind and have fun but also provides a unique perspective on the city's diverse personality and lifestyle. So, be sure to include an evening adventure in your plans to fully embrace the dynamic and lively nightlife of Jerusalem.
7. Discover the Lesser-Known Sites when planning to tour Jerusalem: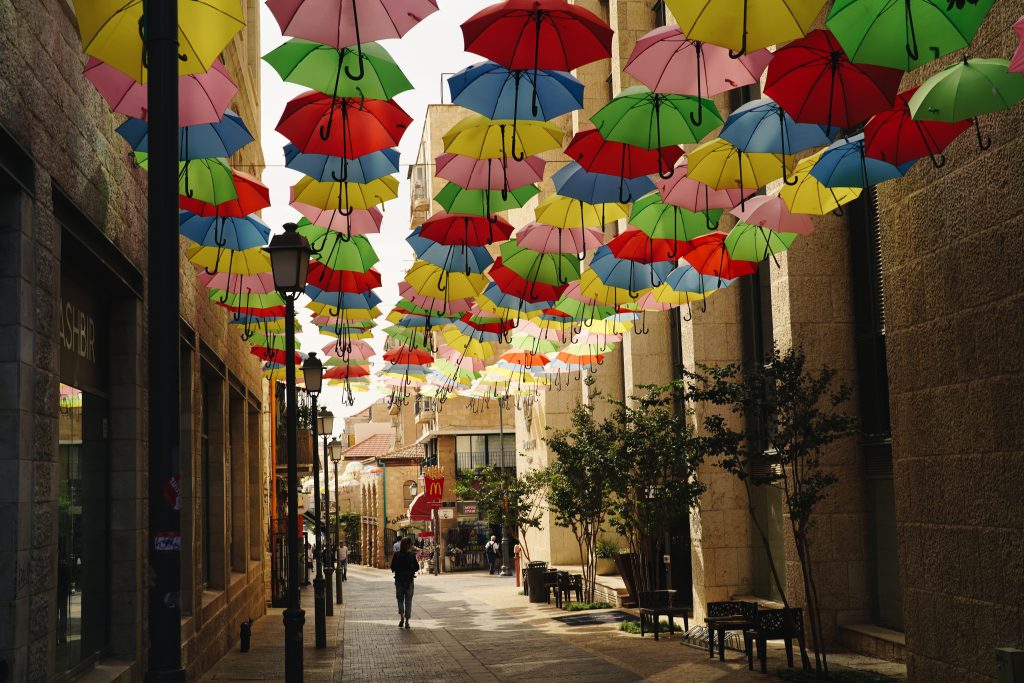 While exploring Jerusalem on your own, don't miss the opportunity to venture beyond the popular attractions and discover hidden gems that add depth to your experience. The Tayelet, with its stunning panoramic views of the city, offers a peaceful escape from the bustling streets. Yad Vashem, the renowned Holocaust memorial and museum, provides a profound and moving tribute to the victims. Ein Karem, a picturesque village on the outskirts of Jerusalem, offers a charming atmosphere with its narrow alleys, quaint churches, and artistic community. And Ben Yehuda Street, a vibrant pedestrian thoroughfare, is bustling with shops, cafes, and street performers. Incorporating these lesser-known sites into your itinerary will allow you to delve deeper into the rich history, culture, and diversity that Jerusalem has to offer.
8. Dressing and Preparing for the Weather:
When packing to tour Jerusalem, it is crucial to be prepared for the city's climate. Jerusalem experiences hot summers and cool winters, with occasional rainfall during the colder months. In the summer, lightweight and breathable clothing is recommended to combat the scorching heat. It's also advisable to carry a hat, sunglasses, and sunscreen for protection against the sun's rays. The evenings can get chilly in the summer months, so a light jacket or sweater can be needed. In the winter, layering is key as temperatures can be chilly, especially in the evenings. Additionally, winter time is the rainy season in Israel, so bring some waterproof jackets and boots. Regarding footwear, it's important to wear comfortable and sturdy shoes, as Jerusalem's stone-paved sites can be slippery, especially in wet conditions.
9. Tour Jerusalem with Children:
When planning to tour Jerusalem with children, rest assured that the city is extremely child-friendly, making it a very welcome place for families. Most, if not all, sites in Jerusalem welcome children and provide appropriate experiences for young visitors. However, it's important to do some research before to ensure that the chosen sites are stroller-friendly and accessible to wheelchairs, as some historic places may have limited accessibility. In cases where strollers may not be suitable, using baby carriers or stroller alternatives can make navigating through busy outdoor markets, public transportation, and sites easier and more convenient.
10. Embrace the Experience:
When going to tour Jerusalem, it's important to embrace and appreciate the uniqueness of this remarkable city. Jerusalem is a melting pot of diverse cultures, boasting a rich tapestry of traditions and customs and is very unlike any other place. The locals, with their vibrant personalities and distinct way of life, contribute to the colorful fabric of Jerusalem's character making it quite a culture shock for many tourists.
From the busy streets to the sometimes intense weather, every aspect of the city adds to the experience so be sure to come to tour Jerusalem with an open mind to embrace the beauty and uniqueness. Take a moment to soak in the beauty of this ancient city, with its historic sites and impressive architecture. Cherish the meeting with the locals and savor the unique moments that will become important memories. Embracing the vibrant atmosphere and liveliness of Jerusalem will make your tour truly unforgettable.