You find yourself in the heart of Israel, the most modern and progressive city in the Middle East; here is how to take advantage of the city that never sleeps and the best day trips in Tel Aviv.
Tel Aviv is on the west coast of Israel, overlooking the beautiful Mediterranean Ocean. This hip city hosts one of the most significant Pride parades, once a year. Thousands of visitors from across the globe fly in to be part of the immense parade.. This is indicative of Tel Aviv's motto 'come as you are'. Everyone in Tel Aviv is highly different and unique, but with the running theme of creativity, freedom and fashion. Here is a great way to make the most of your day trip in Tel Aviv.
Cuisine Tour
There are many great tours in Tel Aviv to explore all different parts of the city. The food scene in Tel Aviv is unlike any other city. This city is like a Mecca for vegans, vegetarians and those with unique dietary requirements. In Tel Aviv, if you are a vegetarian, you are with the majority. Every single restaurant you will find will have endless vegan and vegetarian dishes for you to try. A great place to delve into the cuisine of Israel, is by visiting the many outdoor street markets to taste the best street food.
Wherever you go in Tel Aviv, you are guaranteed to find an endless array of options that are fresh and delicious. Since we are sure to be hungry every few hours, take that into account when creating your itinerary for a day trip in Tel Aviv. But should you be looking for an experience, find the top rated restaurants in Tel Aviv by clicking here. Another great way to explore Tel Aviv's food scene is with a culinary tour of Tel Aviv. To book your culinary tour of Tel Aviv online, click here.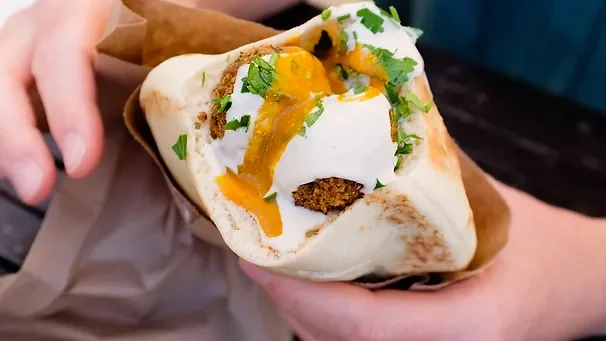 Must Sees in Tel Aviv
Obviously one day is not enough to see everything in Tel Aviv, but we will try to compact everything so when the day is over, you can say; 'I have done Tel Aviv'. Thankfully, a day trip in Tel Aviv is fairly accessible with most of its attractions within walking distance. Another way to get around is with Tel Aviv's endless accessibility of bikes for rent, and electric scooters.
Additionally, a lot of hotels in Tel Aviv offer bike rentals for their guests to enable easy travel around the beautiful city. Like any city, with Tel Aviv traffic, getting around by car isn't the most efficient way to see the most in such a short amount of time, so we recommend to see Tel Aviv by foot, or other mode of transportation.
Jaffa
Start your day trip in Tel Aviv in Jaffa, the Old City of Tel Aviv. A port city constructed of ancient Israel stone, is south of central Tel Aviv but most luxury hotels are based in Jaffa. It's a great place to start a day trip in Tel Aviv here, as you get to dive straight into Tel Aviv's culture and beauty. Jaffa Clock Tower is in the center of Jaffa and is quite the sightseeing spot. Grab a picture here and learn the history of this Ottoman piece of architecture.
Another must see in Jaffa, is the Jaffa Flea Market where everyone is selling the oddest pieces and you will find something that is worthy of bringing home. When shopping, start bargaining as not only is it customary, it's most definitely expected. With some spare time, visit the Great Mosque, which was built during the Ottoman rule. The unique architecture of this building is a great way to learn the history of this ancient city. Book your private tour of Jaffa by clicking here.
Florentin and Neve Zedek
Florentin is the heart of Tel Aviv's hipster lifestyle and is a must on day trips in Tel Aviv. It's worth a stroll around to see this famed neighborhood, as well as to get to know your way around should you like to join the epic nightlife later on in the day, with bars packed with young and hip patrons, endless alcohol, and great music. Read more about nightlife in Tel Aviv by clicking here.
Neighboring Florentin is Neve Zedek. This bougie neighborhood is home to beautiful buildings, Instagram worthy cafes, boutique stores that range from clothing, art, jewelry and other homemade items as well as endless art galleries of world renowned artists. If you were to spend the most time in any neighborhood in your day trip in Tel Aviv, we hands-down recommend Neve Zedek which feels like stepping into a whole other beautiful world. For an aesthetically pleasing afternoon, wander through Neve Zedek for memories (and pictures) that you will always remember fondly.
Carmel Market
Throwing you right back into loud Israeli culture, head to Carmel Market, for one of the most popular day trips in Tel Aviv. With vendors shouting their wares, Carmel Market is an extremely entertaining place to find yourself. With world-class street food, endless coffee, beer and alcohol, and an overwhelmingly lively atmosphere, Carmel Market is a must see and is one of Israel's top street markets.
Carmel Market is a great place to find the best falafel and hummus you will ever have. You can find anything here, from books, art, produce, mementos to bring home, clothing and knock-off luxury items. Be sure to not lose time here as it is so easy to lose track of time in this lively area of Tel Aviv. If you are looking for other places to shop and explore, check out the top places to shop in Tel Aviv here.
Wind Down
After a day of bustling amidst the booming city of Tel Aviv, experience Israel's culture without the noise and traveling. There are endless museums that are worth checking out that can be the perfect way to recuperate from traveling. Another great way to unwind whilst still exploring is visiting the heart of the diamond world. This is a relaxing way to learn more about Israel's significant diamond industry as well as history and culture. To learn more and book your private tour, click here.
To summarize, there are endless day trips in Tel Aviv. To learn of the best day tours in Tel Aviv, click here.