Day trips from Tel Aviv to Haifa are a great way to explore this northern part of Israel. Haifa is a port city in the north of Israel that welcomes many visitors who come to tour Haifa. There are many attractions in Haifa, from cultural, historical and natural. Because of Israel's small size, day trips from Tel Aviv to Haifa are easily accessible and manageable. Whilst there is so much to see and do in Tel Aviv, Haifa is a city that is well-worth the trip up north.
If you are arriving in Israel via a cruise ship, there is a high chance that you will be docking in Haifa. Many cruise ships entering Israel will dock at the bustling Haifa port. Tourists will use this as an opportunity to tour Haifa. Continue reading below to learn everything you need to know of day trips from Tel Aviv to Haifa and all the sites that you must see.
Day Trips from Tel Aviv to Haifa; Transportation
Tel Aviv and Haifa are both on the west coast of Israel. To get here, it is just a matter of following the coast to get to this northern port city and to tour Haifa. Because traffic is notorious in Israel during the work week, the two hour drive can easily turn into an over three hour journey. To save time, ensure you are planning day trips from Tel Aviv to Haifa when you will travel during off-peak hours during the day. Additionally, traveling to Haifa on Saturday in Israel will also ensure there is no traffic there or back.
Another option of transport from Tel Aviv to Haifa is via public transportation. Israel's railway and trains means that day trips from Tel Aviv via train are very easy. There are trains that run from Jerusalem all the way to Haifa, with stops in Tel Aviv's station that depart often. One benefit of using the train system is that it is a great way to circumvent traffic jams. Another benefit of the train is the train tracks run along the coast, and therefore passengers have epic views of the rolling Mediterranean Ocean on their way to tour Haifa.
Additionally, you can catch a bus from Tel Aviv to Haifa. The buses will run later than the trains, so if you are caught in a pickle, there is a high probability there will be a bus to transport you to or from Haifa. It is important to note that public transportation does not run on Saturday due to Shabbat as well as on Jewish holidays.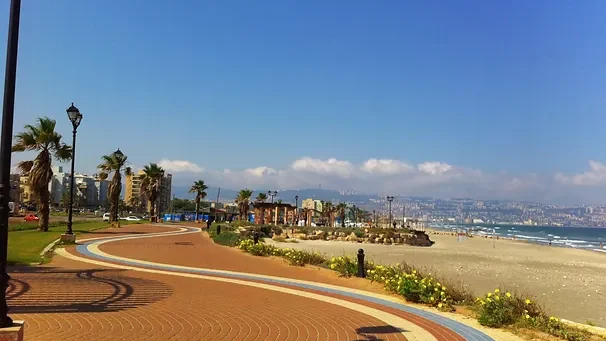 Day Trips from Tel Aviv to Haifa
Haifa is the third largest city in Israel and follows Jerusalem and Tel Aviv in terms of cultural, historical significance. This city is famous for its world-class universities, diverse culture and population, and its stunning natural landscape and beaches. Haifa is a multicultural melting pot where Jews and Arabs live peacefully together. Haifa is located on the slopes of Mount Carmel making it quite a hilly and mountainous city. Additionally, Haifa has a great subway system as well as efficient public transportation. This makes day trips from Tel Aviv to Haifa really smooth and accessible. Since Haifa is fairly close to the Golan Heights, and other Carmel Areas, make the most of your trip up north to tour Haifa and check out the beautiful landscapes that northern Israel has.
Tour Haifa; Sites and Attractions
Baha'i Gardens
The most notable and popular site and attraction in Haifa is the Baha'i Gardens. This is a must see on day trips from Tel Aviv to Haifa and any visit to Israel. Part of the Baha'i World Center, the Baha'i Gardens is a place of pilgrimage to those of the Baha'i Faith. The Garden comprises nineteen terraced gardens that are perfectly maintained and stunningly curated. At the center of the Baha'i Gardens sits the Shrine of the Ba'b.
A visit to the Baha'i Gardens is truly memorable as it can very easily become a profoundly meditative experience. There is a tangible atmosphere of calmness here. The top of the garden provides a beautifully framed panoramic view of the ocean and the city of Haifa. Being surrounded by such beauty, dedication and care of the land, as well as the beautiful views the terraced gardens provide makes the Baha'i Gardens a must see when trying to tour Haifa.
It is important to note that in the summer months, it can get very warm. So, make sure to bring water and good shoes, as many paths are pebbled. The Baha'i Gardens are welcoming to everyone, but it is recommended to dress modestly as this is considered one of Israel's holy sites. Remember to bring your camera and be prepared for jaw dropping views.
Day Trips from Tel Aviv to Haifa: Cable Cars
Tour Haifa and its sites by taking a trip up its famous cable cars. Another famous attraction in Haifa is its cable cars that travel from the beaches and up toward the slopes of Mount Carmel. The cable cars provide easy and accessible transport to sites that are at either the top or the bottom of the landscape. For your day trips from Tel Aviv to Haifa, the cable cars provide more than just transport. The cable cars are a great way to see the beautiful city of Haifa from a viewpoint like no other. At the summit, you can visit the Stella Maris Carmelite Monastery, and Elijah's Cave.
Tour Haifa Madatech – Israel Museum of Science Technology and Space
This interactive and tactile science museum is one of Israel's top museums, and is set in the Technion campus. Catering to visitors of all ages, it is the largest science museum in Israel with a focus on education of technology and space. Additionally, when visiting Madatech, visitors get to see the palm tree that Albert Einstein planted in 1923. Madatech offers a range of exhibits and activities that are a must-see when traveling to tour Haifa. The museum is divided into several themed areas, each showcasing a different branch of science or engineering. From robotics to renewable energy, visitors can explore a wide range of interactive exhibits that make learning about science fun and accessible for everyone.
Tour Haifa, Akko, and Caesarea
A great way to explore this northern region of Israel is with a private tour of three famous cities in Israel. Haifa, Akko and Caesarea all hold epic history, archaeological sites, and epic attractions. Make your day trip to Haifa from Tel Aviv include the rest of the cities in this northern region. A private tour of these three cities will provide a unique and unforgettable experience for anyone interested in history, archaeology and culture. A knowledgeable guide will lead you through the ancient sites and share fascinating stories and insights about the regions' rich history. With so much to see and do in these cities, a private tour is the perfect way to maximize your time and make the most of your visit. Your day trip from Tel Aviv to Haifa is guaranteed to be unforgettable.
Because of Haifa's location, it is very easy to have notable pit-stops on your day trip from Tel Aviv to Haifa. You can stop off to explore the old city of Akko. Additionally, explore the amphitheater of Caesarea, since it won't even take a detour from your trip to Haifa. Going to Haifa from Tel Aviv is a great way to check off many things on your bucket list with little effort. This is because there are many major attractions on the way to Haifa from Tel Aviv.
To discover private tours of Israel, click here.